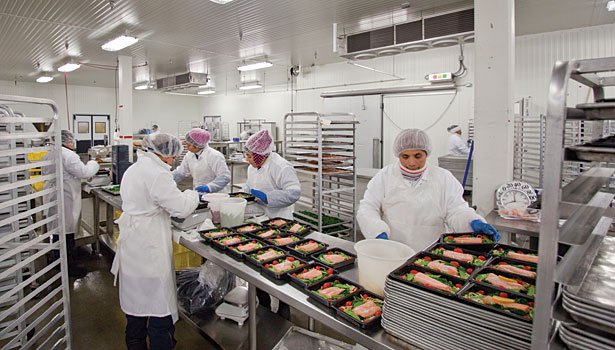 Food and beverage processing is California's third largest manufacturing sector. Los Angeles County has more food manufacturing establishments than any other California County. The largest concentrations of food companies in LA County are in the City of Los Angeles, Vernon, Commerce, and Industry. For a list of available food facility real estate listings for sale or lease contact us.
In 2013, the U.S. food and beverage manufacturing sector employed about 1.5 million people. Meat and poultry plants employed the largest percentage of food and beverage manufacturing workers, followed by bakeries, and fruit and vegetable processing plants.
Cooler space: Space that maintains temperatures between 0 and 50 degrees Fahrenheit.
Freezer space: Space that maintains temperatures at 0 degrees Fahrenheit or lower.
California has 347M cubic feet of freezer space, 222M cubic feet of cooler space, for a total of 560,000,000 cubic feet of public and private refrigerated storage space in 2015.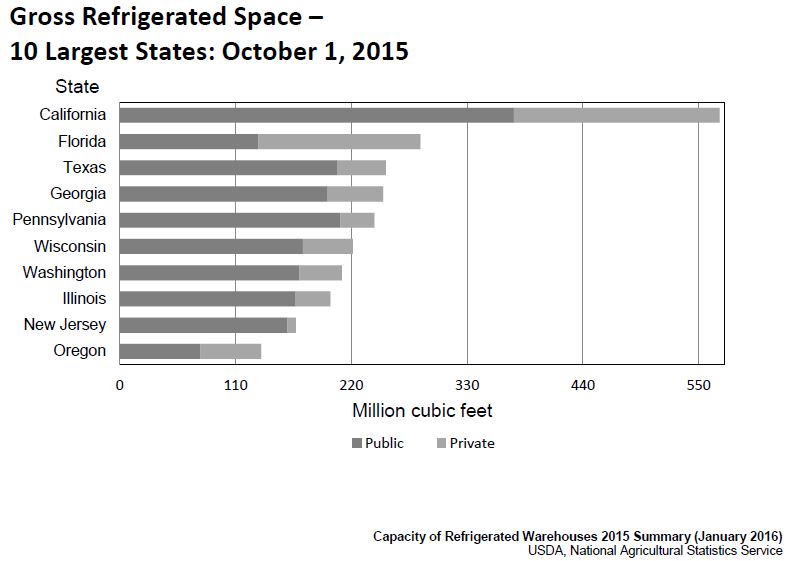 The IARW North American Top 25 List of the largest refrigerated warehousing and logistics providers in Canada and the United States.
| | COMPANY NAME | LOCATIONS | CUBIC FEET | CUBIC METERS |
| --- | --- | --- | --- | --- |
| 1 | Americold Logistics | Canada and United States | 907,859,958 | 25,707,689 |
| 2 | Lineage Logistics | United States | 600,291,320 | 16,998,329 |
| 3 | United States Cold Storage, Inc. | United States | 233,506,753 | 6,612,164 |
| 4 | Preferred Freezer Services | United States | 212,896,689 | 6,028,553 |
| 5 | VersaCold Logistics Services | Canada | 119,397,317 | 3,380,950 |
| 6 | Interstate Warehousing, Inc. | United States | 82,469,569 | 2,335,274 |
| 7 | Nordic Logistics and Warehousing, LLC | United States | 69,928,000 | 1,980,137 |
| 8 | Cloverleaf Cold Storage Co. | United States | 64,983,705 | 1,840,131 |
| 9 | Burris Logistics | United States | 62,329,576 | 1,764,974 |
| 10 | Henningsen Cold Storage Co. | United States | 53,756,309 | 1,522,207 |
| 11 | Congebec Logistics, Inc. | Canada | 49,660,000 | 1,406,212 |
| 12 | Hanson Logistics | United States | 39,498,539 | 1,118,472 |
| 13 | Conestoga Cold Storage | Canada | 36,879,800 | 1,044,318 |
| 14 | AGRO Merchants Group, LLC[i] | United States | 29,375,156 | 831,810 |
| 15 | Trenton Cold Storage, Inc. | Canada | 28,335,972 | 802,384 |
| 16 | Confederation Freezers | Canada | 25,820,000 | 731,140 |
| 17 | Zero Mountain, Inc. | United States | 23,644,000 | 669,522 |
| 18 | Brookfield Cold Storage | Canada | 22,000,000 | 622,970 |
| 19 | East Coast Warehouse & Distribution Corp. | United States | 22,000,000 | 622,970 |
| 20 | Interstate Cold Storage, Inc. | United States | 21,403,000 | 606,064 |
| 21 | Allied Frozen Storage, Inc. | United States | 21,246,747 | 601,640 |
| 22 | Hall's Warehouse Corp. | United States | 20,625,304 | 584,043 |
| | | | | |
| 23 | MTC Logistics | United States | 18,278,901 | 517,600 |
| 24 | Nor-Am Cold Storage, Inc. | United States | 17,223,000 | 487,700 |
| 25 | U.S. Growers Cold Storage, Inc. | United States | 16,365,356 | 463,415 |