The Los Angeles and Orange County industrial markets both have registered negative net absorption in the third quarter of this year, something that has been virtually unheard of lately in Southern California, where the growth of the logistics industry and other factors in recent years have generated a seemingly endless demand for industrial buildings.
After nearly a dozen years of continuous growth, container volume at the ports of Los Angeles and Long Beach continues to drop as of late.
"The entire West Coast lost business," keynote speaker Jon DeCesare, CEO of WCL Constulting, told an audience of several hundred industry professionals at the fourth annual RealShare Industrial West conference and networking event on Wednesday at the Hyatt Regency Long Beach. DeCesare's WCL Consulting is a management consulting firm providing logistics, supply chain management and warehousing and distribution advisory services to major international corporations, third-party logistics providers, real estate development and brokerage companies and the public sector.
After 11 years of consecutive growth, often near or exceeding double digit percentages, container volume dropped off at the twin ports starting in 2007, with volume falling 10.5% in Long Beach and 4.8% in L.A. year-to-year to September 2008, he noted.
"The question is: Is this the new reality, or will volume come back to LA?" DeCesare said.
The ports were hindered first by the 2002 lockout, then a labor and rail shortage in 2004 and in the past few years by Nimby opponents, stringent clean air programs and particularly by alternative ports in the US, DeCesare added.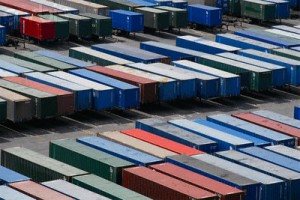 Container traffic to East Coast ports continues to grow, he noted, adding that several new ports on the other side of the country have opened, or expanded capacity, and that planned future capacity improvements to the Panama and Suez Canals will likely further hurt container volumes on the West Coast.
"The Southern California industrial world's going to be rocked by these fundamental changes," he added.
One of the highlights of every RealShare event is its Town Hall Panel. In this year's Industrial West Town Hall, EVP Joseph Vargas of Cushman & Wakefield moderated a panel that addressed the challenges and solutions facing industrial real estate in the Western US. Panel members included Adon Panattoni, regional director of Panattoni Development Co. Inc., regional president Lang Cottrell of LNR Property Corp. and EVP Tim O'Rourke of Jones Lang LaSalle.
Much of the talk in that panel also addressed concerns about falling container volume at the ports. "Not to be a Chicken Little, and the sky is falling, but things are tough right now," Panattoni said.
However, Panattoni was among many of the panelists at the RealShare conference who also expressed confidence that the Southern California industrial market will not only recover, but will continue to prosper, and much of that prosperity, most agreed, will be driven by the region's own demand for consumer goods as the population continues to swell.
Following the Town Hall, a panel moderated by EVP Barbara Emmons of CB Richard Ellis tackled the topic of "What it takes to buy and finance deals in today's dysfunctional environment." Panelists included SVP Patrick Gallagher of the Alter Group, managing director of acquisitions Rick Putnam of Rreef, managing partner Howard Schwimmer of Rexford Industrial, managing director Peter Smyslowski of Holliday Fenoglio Fowler and Mesa West Capital principal Ryan Krauch.
Krauch noted: "We're putting money out, but we're being very selective."
Schwimmer put in: "Cap rates are going up and I think they're going higher." He also stated his belief that the industrial market is only in the third inning in the overall economic scheme of things. "I think industrial's going to get worse here," he said.
Next up was a panel on the new realities of the Southern California industrial market, moderated by SVP Jeffrey Morgan of CBRE. Panelists were vice president Rob Antrobius of AMB Property Corp., executive managing director Bryan Bentrott of Master Development, vice president Brian Gagne of KTR Capital, SVP Erik Hansen of LNR Property Corp. and first vice president Patrick Maloney of ProLogis.
Two panels closed out the day: "From Port to People," which examined the reconfiguration of the supply chain and industrial logistics; and "Industrial Crossfire," in which market leaders revealed the trends, companies and people to watch in 2009.
The first panel was moderated by Chuck Belden, executive director at Cushman & Wakefield, with panel members Jon Cross, director of marketing at the Allen Group; Tim Feemster, SVP and director of global logistics for Grubb & Ellis; and Jim MacLellan, director of marketing for the Port of Los Angeles.
MacLellan, who talked about bureaucratic difficulties in getting projects done, such as necessary expansion of services, said to compete the ports have to keep pulling out "as many rabbits out of the hat as we can." He also called for solidarity from the business community, particularly those who work in the industrial market, to garner public support for upcoming port initiatives.
Feemster agreed that public opposition is contributing to making the twin ports less competitive with others. "What were running into in Southern California is the Nopes, not on planet Earth," he said.
Cross, who spoke about logistics trends and about the value of railroad-served transportation hubs, quipped: "If I had my druthers, I wouldn't give the automotive industry that $25 billion, I'd give it to the railroads."
The second panel included Al Pontius, SVP and managing director of Marcus & Millichap, Martin Coyne, SVP and regional manager for AMB Property Corp. and Ed Indvik, chairman of the Lee & Associates Advisory Board.
RealShare Industrial West is one of an annual schedule of RealShare events that are produced by Incisive Media, the parent company of GlobeSt.com, Real Estate Forum magazine, Real Estate Southern California magazine and a host of other online and print sources of information about commercial real estate, legal and financial services, risk management and the marketing industry. Article by D. Jergler.