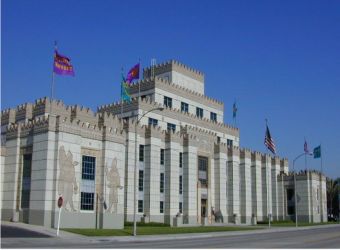 In 1929, architects Morgan Walls and Clements (Mayan Theater) built Commerce's most recognizable landmark, the Assyrian-themed Samson Tire and Rubber Co. factory before being shut down in 1978. The city bought the Samson site for $14 million in 1983. Seven years later, Trammell Crow Co. was brought in to oversee the $118 million redevelopment of the site into an outlet center, as well as the construction of a 201-room Wyndham Garden Hotel next door.
When the partnership defaulted on its ground lease with the city in 1998, Commerce officials took back the center and began marketing it to firms that would double its retail size and make it competitive with newer outlet malls in Southern California.
Craig Realty bought the Citadel Factory Stores from the City of Commerce for $50 million in July 2002, with the condition that his firm would double the size of the retail center of outlet shopping stores.  Craig Realty owns factory outlet centers in Cabazon, just outside Palm Springs, and Carlsbad. It also helped develop Camarillo Premium Outlets.