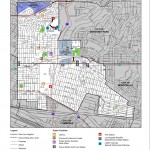 There have been three previous attempts at incorporation in East Los Angeles in 1961, 1963 and 1974. The name of the proposed city is the City of East Los Angeles. The community is 7.5 square miles (4,783 acres) in size. The community is bounded by the cities of Los Angeles, Commerce, Monterey Park, and Montebello. There were 126,054 residents in East Los Angeles, according to the 2000 Census. There are 4,783 acres in East Los Angeles, 164 acres of which are industrial zoned land (375 parcels).
The manufacturing sector makes up 11 percent of East Los Angeles jobs. Ten of the largest employers are manufacturers of products ranging from metals, brushes and adhesives to tortillas and ice cream. Food-related manufacturing is more concentrated in East Los Angeles than in the County as a whole.
Top property owners by assessed value include the Roman Catholic Archbishop of Los Angeles, California Water Service Company, AltaMed Health Services, Telacu Development, and Humboldt Creamery. Major industrial zoned streets include Noakes St, Union Pacific Ave., Calzona St., Los Palos St., Indiana St., Gage Ave., Bonnie Beach Place in the southern section. In the northern section, known as City Terrace, major streets include Medford St., Fishburn Ave., Worth St., Marianna Ave., Fowler St., Whiteside St., Valley Blvd., and Knowles Ave.